Wilsons Barber shop in Billericay
Our Billericay barber shop, located in Queens Park area of Billericay, opened on the 5th November 2019. We cater not only for men's haircuts, but for boys too.
The whole team at Billericay pride ourselves on providing a professional service for all our clients. We use authentic Belmont barber chairs so that you can enjoy the experience all while being in the most comfort. Whatever style you are looking for our team will be sure to provide the best service for you.
Meet the team or get directions to our barber shop in Billercay below.
3 The Pantiles
Queens Park Avenue
Billericay
Essex
CM12 0UA
Monday: Closed
Tuesday: 9am – 6pm
Wednesday: 9am – 6pm
Thursday: 9am – 8pm
Friday: 9am – 6pm
Saturday: 8am – 4pm
Sunday: 9am – 2pm
Please ensure last entry to our barber shop is 30 mins before closing time.
Josh
I have been barbering for around 8 years now. I started my training in 2012 studying at Redbridge College, where I acheived my NVQ Level 2 Diploma in Barbering. I have also varios day courses to advance my skiils and knowledge in the industry. I started working at Wilsons right from the beginning of my training and building myself up to a high role until June 2018, where I left to travel Asia for 4 months before moving to Australia. In Australia I carried on working as a barber until I returned home in January 2020. I was soon settled back home and returned to work at Wilsons straight away, as the manager of the barber shop in Billericay.
James
Hi, i'm James. I have worked in a barber shop for 4 years. I trained at Mitchell's barbers and worked their for 3 and a half years, and now work for Wilsons in Billericay. My favorite thing to do is cut hair and I'll never lose the passion.
Ben
Hi i'm Ben. The proud owner of Wilsons Barber Shop. I've been involved within the barbering industry since the age of 13 and always wanted to own my very own brand of barber shops, and in 2011 I achieved my dream. I love meeting new people and building new lasting relationships with my clients. I look forward to seeing you at Wilsons Barber Shops soon!
Child's haircut and style
Student's haircut and style
Senior citizens haircut and style (Wednesdays)
Senior citizens haircut and style (Tuesdays, Thursdays and Fridays - 9am-3pm)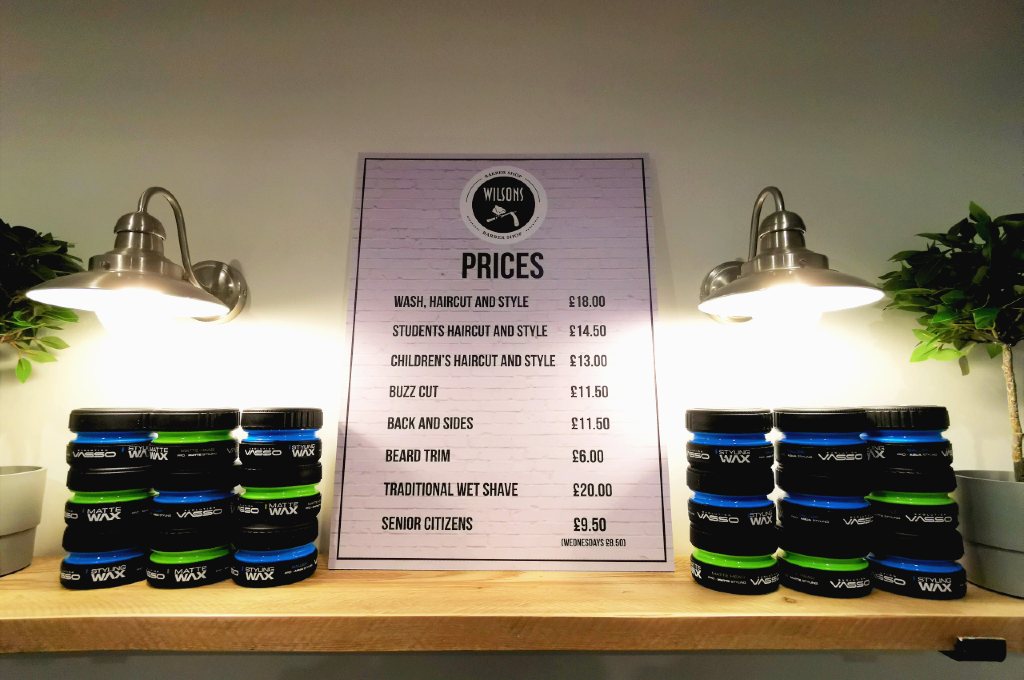 Get directions to Wilsons Barber Shop in Billericay!
Looking For Hair Styling Products ?
At Wilsons Barber Shop we offer a wide range of hair styling products to suit any style of gents hair cuts. Visit our online shop or purchase our products in store next time you visit.